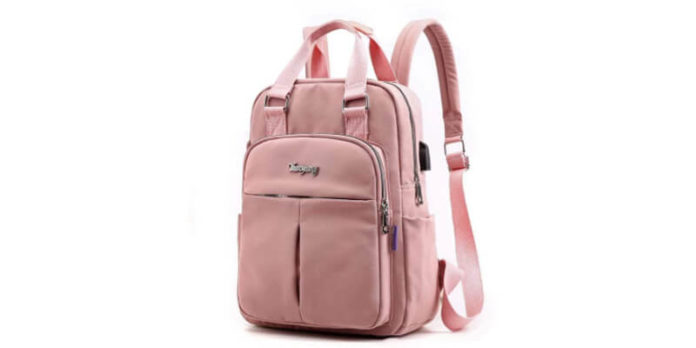 No matter what age or gender, humans tend to judge on the basis of looks initially. Our accessories define our thoughts and personality in more ways than one. While some choose comfort over fashion, others go for style at all costs. Why not mix trends and convivence with these multipocket backpacks? Now walk out every day with confidence, security, and assurance.
A complete look:
Whether you're a college student who has a busy schedule, a housewife trying to get back into shape by going to the gym, or a working mom, the right bag can enhance your appearance. Not to mention the extra space is always a welcome companion to tuck things in. Without knowing it, we almost always carry our bags with us. That's is why these array of designer multipocket backpacks were made to help boost your comfort. The bags come in a variation of shapes, sizes, diversity, and features, making sure to appeal something for everyone.
Multipocket backpacks: A multipurpose accessory
The same way you strive to define your clothes and shoes in a clear fashionable way to impress, our bags can do the same. Combine that with bags that are designed to satisfy the needs of a particular group of individuals. If you are a traveler, then a large capacity nylon waterproof bag is ideal. While office workers would go for a multifunctional leather bag that allows them flexibility. Suppose you are an old soul, then maybe a vintage leather backpack will highlight your personality. The world is your oyster, anticipating to be seen …. with the right backpack, of course.
Multiple pockets advantages:
Do you always forget to pack your bags the night before and get frustrated when you can't find your keys, medicine, or makeup? We tend to create a mess inside our bags on a regular basis, and that's normal. An easy solution to this predicament is having a backpack that has a selection of large and small pockets to place all your essentials individually. No more searching for hours as each thing will have its own pocket. Some excellent features include:
Vintage Leather backpack has 3 to 5 pockets.
Nylon waterproof travel bag has one significant pocket inside with a large compartment outside. The exterior has four front zipper pockets with two side pockets and a back-zipper pocket
Retro small work backpack has one large capacity with four adjacent pockets
Big travel backpack has five pockets with varying dimensions for optimal use.
Multipocket backpacks durability:
Aside from style, these backpacks have been masterfully crafted to last you for a long time. Whether you choose a small leather one or go for the evident large waterproof travel bag, the quality is top-notch. The backpacks will not ripe upon vigorous use, and the material is lightweight. The adjustable straps will not weigh your shoulder down as you walk, and each comes with compatible phone sizes. Their durable nature and expert design set are them apart from the rest.
Elevate your look and ease your needs with these multipurpose backpacks. You can't go wrong with these handy accessories around.