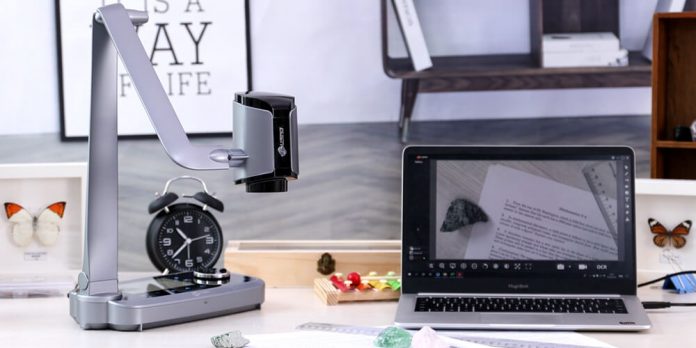 A document camera is an improved version of a web camera. It is an imaging device that allows one to project images of objects and documents clearly to a touch screen panel, display, or any other device. The development of a document camera is very beneficial, especially to teachers.
Therefore, it helps in improving the quality of teaching and learning. Thus the best document camera for teachers encourages learning. Below are five reasons to get a document camera.
Eight reasons to get a document camera
1. Simple to use
The document camera is effortless to use. It does not require one spent hours upon hours on the learning process on how to use. It also does not need for teachers to employ professionals to teach them how to use it. Therefore, it is a very convenient piece of technology for any teacher to use easily.
2. Saves on printing time and cost
One of the best reasons to get a document camera is that it saves time and cost. Document camera saves time in that teachers do not have to spend a lot of time printing essay's or quizzes for students. They can capture the examination with a camera and project it to other students to see. Therefore, saving costs in purchasing printing papers. The adaption of document cameras can help save the environment by reducing the amount of printing paper used in the future.
3. Many tools in one document camera
Some document camera contains many features in one. The many features can include; chart paper, scanner, projector, digital camera, and a whiteboard. The many features in one ensure that the document camera can perform several functions, therefore more economical.
4. Split-screen aspect
The split-screen aspect of many document cameras enables them to project side-by-side images. For example, teachers can use a digital camera to display different parts of an exam quiz to students.
5. Easy to set up
If you want to use the document camera in various classrooms, getting a document camera is the best decision. It is portable; therefore, you can quickly move it from one classroom to another. It is also easy to set up. Therefore, once you move it from one classroom to another, you can easily set it up.
6. Ensures good accessibility, flexibility, and visibility
One of the best reasons to get a document camera is that it gives students a good look at objects, words, or images you want them to see, even the smallest of details in an object or paper.
7. Best tool for tactile learning
Those young students who prefer presentation as a mode of learning can benefit very much from this. Therefore, the use of digital cameras improves the quality of learning, and it also allows students to learn more about modern technologies.
8. Straightforward in developing video lessons
Teachers who need to develop video lessons for class notes, austerity, and have lectures ready for missing students can significantly develop from owning a document camera.
Conclusion
Technology keeps on growing day-in-day-out. Therefore, the greatest thing to do is to adapt to the changes and advancements in technology. That is because the new, improved technologies help make life easier. In addition, the use of a document camera allows both the teachers and students to have an outstanding learning experience.