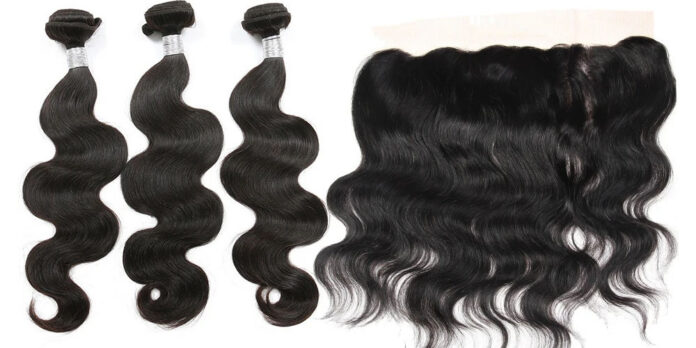 You buy hair or switch to a new hairstyle after seeing it on someone or after a recommendation from a friend. Trying out new hair like wigs or weaves is exciting but can lead to anxiety as you await the outcome. Frontal with bundles are constructed mainly from human hair and lace materials. Frontals cover the front part of your head from ear to ear or the entire hairline in the case of a 360 frontal, and bundles are needed to complete the look. As a new user, knowing how many bundles you need can be challenging. So we discuss the frontal hair bundles needed to make a frontal wig.
Factors that Determine the Number of Bundles for Your Frontal
You can buy hair bundles online or from local beauty and hair shops. Factors that influence the number include;
1. Hair texture
The texture or type of hair is a significant determinant in your frontal. Bundles can be straight, wavy, and curly. Straight hair uses more bundles than curly hair. In addition, achieving a fuller look with curly hair is easier than with straight hair hence the bundle difference. A 360 frontal uses more bundles than a regular frontal since it goes around your head.
2. Length of the hair
You will need more bundles for longer hair than for shorter hair. Going by the length chart, hair is sold as per the inches. More inches means more bundles. For example, 16-inch hair uses fewer bundles than 24-inch hair. The length of your hair often affects your look. The effects may be positive or negative, so carefully decide the length you want to get the ideal number of bundles.
3. Type of weft
Wefts vary between different types of hair. Some have a single weft, while others have a double. The kind of weft you choose solely depends on you. Some prefer the double to single though multiple companies focus on the single weft hair only. Double weft hair uses fewer bundles than the single, considering the hair is already thick.
4. Size of the head
People are different, meaning their body structure also varies. Some women may have bigger or smaller heads than others though most sizes range between 22.5 to 23 inches. Those who fall within the standard range use 2 to 3 hair bundles. Any dimension below that will need less. Head sizes bigger than 23 inches may use a bundle or two more.
5. The hairstyle
The style you choose can determine the bundles you need. Some hairstyles are simple and easy to do, while others are more complex. Some have more volume and density, while some are less dense. Voluminous and bulky styles use up more hair bundles than simple styles with less volume. In addition, your natural hair volume influences the style you get and the number of bundles.
Final word
Getting a frontal installed is easy, but various factors must be put into consideration. A hairstylist doesn't start working on you without identifying the hair length, head size, texture, and style you want. In the end, they can tell how many bundles will be enough to complete your look.