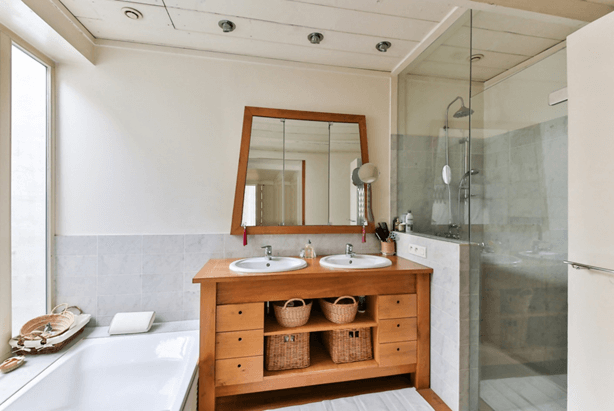 It doesn't matter if it is in the kitchen or bathroom; you will certainly need to clean your cabinets. While it may seem like an easy task, there are a few tips and tricks to keep your bathroom looking spotless.
Your bathroom sink and vanity will require regular cleaning. And the cleaning method will depend on the material of your bathroom cabinet. You may easily wipe sinks with bleach or soap, but you want to be careful how you clean the cupboards.
I have differentiated the different ways to clean your bathroom vanity based on the cabinet material. So you should not have a hard time getting the job done.
Wooden Vanity
Many brands of bathroom cabinets are available in wooden designs. These could be plywood, composite wood, or other types of hardwood. In most cases, the wood is coated with varnish, wax, and polyurethane material. It is also possible to find the wood in its natural state without any finish.
Changes in temperature can affect the quality of your wood. Extreme heat can dry out the moisture from the cabinet. So you should endeavor to wipe it with a dry cloth regularly. You should consider the grain of the wood before applying polish or wax to it.
Painted Vanity
If your bathroom vanity comes with oil-based paint, then cleaning it shouldn't be difficult. You can dilute a natural cleaning agent like vinegar in warm water and use it to clean your cabinet. You want to be careful not to scrub too hard so as not to peel off the paint. Also, you don't want to soak it with too much water. It is best to use a cleaning agent that won't harm the coatings on your bathroom vanity.
Metal Vanity
Although they are more common in public bathrooms, you can also find them in most households. Metal cabinets are some of the easiest to maintain. And this is mostly due to their enamel finish. You can clean them with a wet cloth for tough stains. Or wipe clean with a dry rag for minimal stains. You want to be careful not to expose metal cabinets to water. So as they do not suffer from rust or cracks. And if you do find any rust or break, you can remedy with an oil-based paint.
Laminated Vanity
You can also find bathroom cabinets that feature laminated materials. And if this is the case with your own, cleaning can be done by wiping it with a dry cloth. You can also remove a tough stain with a wet cloth, but be careful not to use a harsh cleaning agent on laminates.
Cleaning Bathroom Vanity Interior
The inside of your bathroom cabinets also requires regular cleaning. While they may not be exposed to stain as the exterior, they could also trap in dirt from time to time.
You can clean the insides of drawers and cabinet doors, with a dry or wet cloth. It is best to empty the contents of the cabinet and return them only when it is properly dried.
You want to stick to only natural cleaners for your cabinet interiors. A good example is vinegar, and you can equally use baking soda on tougher stains.