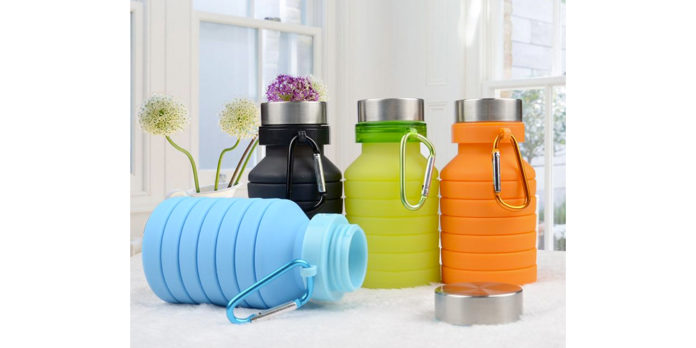 Staying hydrated doesn't begin by filling your bottle with water, but by choosing the bottle. Buying a water bottle may sound effortless until it dawns on you how diverse water bottles have become. Forget the good ol' plastic bottle, today there are glass, silicon, and metal containers. You can now find silicone water bottles manufacturer more easily than before. With variety comes difficult choices. How then do you identify a good bottle?
The following features and factors should help you make the right choice.
1. Material
Water bottles come in different materials, be it silicon, plastic, glass, or metal. You are better off picking one that won't cause harm to your health. Some materials contain a chemical called BPA. Experts say consistent exposure to BPA is risky to human health.
2. Material flexibility
Today, water bottles come in flexible materials too. Collapsible water bottles are available and easy to use. They are of two types; one that collapses as you drink and another that you press before it takes a smaller size. If you're looking for a container that isn't bulky (mostly when empty) and can fit into tight spaces, consider getting a flexible one.
3. Weight
Some bottles are made of heavy material that makes the bottle too heavy once filled with water. Depending on your circumstances, going to work, jogging, etc., the bottle should weigh just enough for your convenience.
4. Durability
Are you clumsy and prone to breaking items? A bottle with strong material should be your top choice. Glass and plastic are likely to snap on the first drop. Silicone or metal will last you longer.
Can your drinking bottle stand the heat? Prolonged exposure to heat can cause damage to your bottle sooner than you would think. Besides, you want your bottle to protect and maintain the temperature of its contents. Try and pick a bottle that will last you long while simultaneously saving the contents.
5. Size and shape, easy handling
A water bottle's size and shape directly impact it's handling. It should be slim enough to fit comfortably in your hand. The form shouldn't be too sizeable. One with a fling top also increases grip. Will you need your water container for a hike, at the office or in the field? Your need will determine the size of the bottle to get.
6. Your taste and style
If you are into style like me, you won't just pick the first bottle your hand lands on. Getting through life with a boring bottle isn't what you want to experience. Be sure you get a container with the color you love. You can also choose one with attractive design to pimp up your look.
7. Price
Water bottles aren't typically costly. Nonetheless, features, material, or size could set the price at a slightly higher bar. Please identify what you need and be ready to depart with what it may cost.
Final Thoughts
Whether you're traveling or staying home, having a water bottle is crucial, but choosing the right one is paramount. The above factors will help you make the right choice.