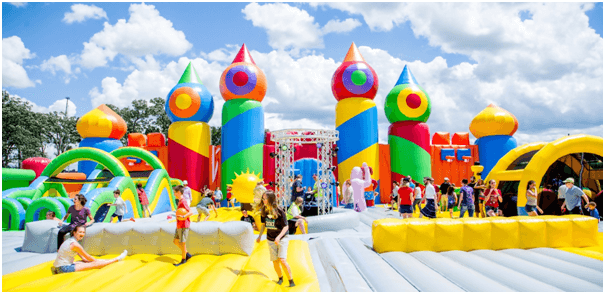 For any parent, there's always the concern of whether or not their child is safe on the playground. In a nutshell, the safety of physical activity is crucial in determining whether kids should play or not. Inflatables from Kuoye Inflatables are extremely safe and a fun way for kids to develop motor skills and burn off energy. But how safe are inflatable play centers? Keep reading and we'll find out.
A Children's Safety Guide for An Inflatable Play Center
Before your children play in any inflatable play centre, make sure that the inflatable is manufactured according to high safety guidelines and that it meets the set safety standards. This means that they ought to go above and beyond the structural requirements and cross check to see to it that there are no errors that might result to accidents. At the end of the day, so many playhouse injuries and deaths will be avoided.
How To Combine Children's Safety With A Fun Experience
There are so many things you can do to see to ensure that your children have as much fun as possible with the inflatable products while still staying safe. First and foremost, we'd advise that you follow these rules at all times:
Before setting up, read all the instructions on the manual and make sure that you understand them clearly
Never at any time should you leave the children unattended
Teach the children to avoid playing too roughly as they could easily get injured
Insist on playing at specific times. Avoid night-time games
Ensure that the children are of almost the same age and size. Don't put older kids together with the younger ones
Adhere to the maximum weight limits at all times
Teach the children to always bounce away from each other so that they don't bump into each other
Warn the children against making unsafe moves such as flips and somersaults
Keep the entrance free from any form of obstruction so that the children can easily leave whenever they need to
No sharp objects should be brought to the bouncing house. The children should remove their shoes before jumping on the inflatable
Always be prepared for an emergency by keeping a phone nearby as well as a list of emergency contact numbers
To avoid risk of injury in the inflatable, pay close attention to the weather conditions and act appropriately.
Ensure that the surface under and around the inflatable playing equipment is safe and clear of any sharp objects such as gravel, wood, glass pieces, or concrete. Instead, find some impact-absorbing materials such as rubber and place them there.
Check and inspect the inflatable playhouse regularly to ensure that it remains fit for use. well-maintained will be safe for the children and will last longer
Do Bouncy Inflatables Really Offer Children's Safety?
The number of accidents happening at children's parties have been on the rise. More than half of these happen while the kids are playing in the inflatable playing equipment. This has resulted in a debate as to whether these products are really safe for children.
Manufacturers always ensure that the quality of construction and operation of inflatable play equipment is of high standards. Although different brands usually follow different production methods, you will find out that the end products are as required. This means that most of these products are actually safe for children to use. The main issue comes in when it comes to use. Following the rules we listed above will guarantee that your children are safe as they play on the inflatables.
Conclusion Inflatables have gained popularity over recent years as nowadays they're not as expensive to rent or purchase. They're a great way to provide a source of entertainment while still guaranteeing the children's safety. However, parents and guardians should always be present as the children play to prevent inflatable accidents. If anything happens, the adult should be able to offer first aid services or rush the child to the hospital for treatment.