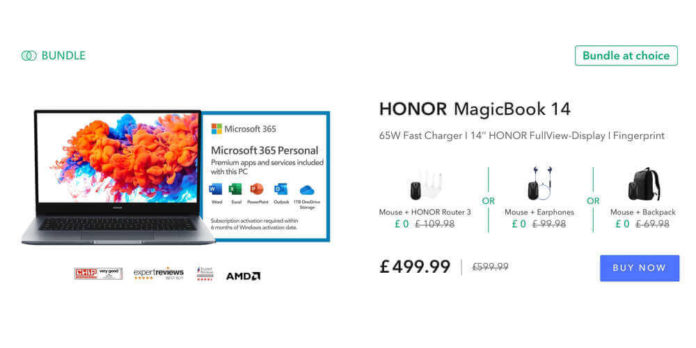 Are you already prepared and ready to face the new school year of 2020? Don't get left behind and step forward bravely to welcome the new school year with a bang. It's the New Year, new adventures to try, and new challenges to overcome. But you won't be alone because Honor got you covered.
Get the back to school promotion UK for all the UK Honor fans out there. If you're looking for a new school partner for this school season, here's a glimpse of Honor's newest laptops to aid you in your schooling.
Honor Laptop Promo
Honor MagicBook 14 – Powerfully Compact Bundle
For only £499.99, you'll get an excellent deal of a lifetime from Honor. This bundle includes an Honor MagicBook 14 with an Honor Bluetooth Mouse and Honor Router OR with an Honor Bluetooth Mouse and Honor Backpack OR an Honor Bluetooth mouse and a pair of Bluetooth earphones. All these could be yours for this great affordable deal.
This Honor MagicBook 14 is great to bring at school since it's ultra-lightweight, which only weighs 1.38kg that comes in a sleek Azure Blue Chamfer color. It lets you enjoy an impressive full view display that has been certified by the TUV Rheinland. It's ultra-fast to use because of its PCle Solid State Drive and DDR4 Dual-channel RAM. See your teachers and classmates in full HD with its Honor magic link 2.0 multi-screen collaboration. Protect your data and school work with its fingerprint power button for your convenience. You can enjoy all these exclusive features with its fast-charging 65W charger.
Honor MagicBook 15 – Bigger Display Bundle
Do you prefer an even larger display for your class conference and video tutorials? Honor offers you its latest MagicBook 15 that boasts a 15.6-inch display with a full view 1080p screen that lets you watch amazing HD videos and connect with your friends like they're there. This laptop deal may come with an Honor Bluetooth Mouse OR with an Honor Router 3 OR an Honor Bluetooth Mouse and an Honor Backpack OR an Honor Bluetooth Mouse and a pair of Honor Bluetooth earphones. All these could be yours for only £529.99.
The MagicBook 15 laptop also boasts a fast charging feature of 65W and an all-day battery use for better user experience. It also has a fingerprint login feature and a recessed camera. It comes with a Windows 10 application essential for major school work and activities. Pair it up with Honor accessories such as Bluetooth mouse and earphones.
Reliable and Fast Delivery
If you purchase now, you will enjoy a limited benefit of free shipping for orders worth £39.99. No need to deal with an expensive shipping fee on top of your order and receive your new laptop on time when you need it.
Don't forget to visit Honor's official website and subscribe to their weekly newsletter to get the latest news, limited deals and promos, free giveaways, and so much more!