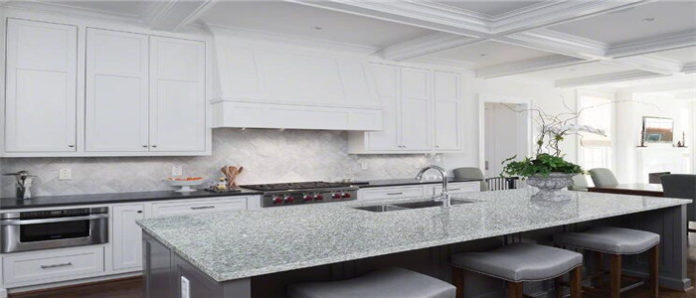 Whether you need to invest in granite countertops or basic tiles really depends on the project you are handling. Usually, your budget is also a significant determinant. Another element you need to weigh in on is what you want to accomplish. Either way, you can always purchase your slab granite countertops for $70 per square foot. Granite countertops cost varies a lot.
You may also purchase the tiles for about $ 10 per square foot. And on average, as a homeowner, you may end up spending $3,000 to $5,000 when it comes to installation. This includes garnering the right materials for the job.
In this blog post, you will learn more about the cost of granite countertops, including the pros of using these materials as countertops in your home.
Granite countertops have been on the market for over a decade. These materials continue to take over the best part of the market, not just for kitchens but bathrooms. Homeowners considering investing in this material have a broad range of colors, themes, and patterns, to choose from.
If you are one of them, then you need to check if there are low-cost options to put your resources in without having to compromise on the quality or look of the material. Understanding basic facts prior to purchasing granite flooring materials will play a huge role in helping you to make a viably right choice.
This choice should last for more than ten months. Other than that, when you decide to hire a professional serving in the countertop industry, you can rest assured that they shall be in a position to apply the material correctly, not just on the floors but other parts of the house.
Here are a few factors you need to consider when researching your options:
Comprehending factors affecting price and levels
Granite, the natural stone, is readily available on the market, on different levels, ranging from 1-7. These levels are an indication of how simple or complex the coloration as well as design is. The standard colors with no patterns shall be of a lower grade. The more distinct the choice of stone is, the higher you will find its level to be.
The price will also be relatively higher as compared to others. Usually, lower-grade options contain soft minerals, making them less durable as compared to the higher grades.                                                                                                                                        White Granite, Black Granite, Coupled With Other Prominent Colors
Granite comes in different unique colors. Not only are they a cheaper option but also come in various stylish designs that will leave you wanting a viable theme for your home and space. While some are hard, others are soft. This makes it easier to cut. It could also have an impact on the general price.
Take-Home
Granite countertops will often come in three different forms. There is the slab, modular, as well as tile. The ideal type suitable for your project is going to depend on the space you want to cover. With this blog post, we hope that you can get hold of the material you need for your home or business.