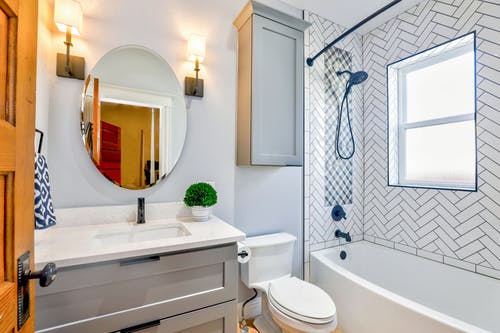 Most people barely think of the necessity to go to the toilet. The fact is we spend most of our lives in those small cubicles. But, since there are various types of toilet seats that open and close at different times, choosing the right one for your home renovation project can be a challenge. Besides, the choice also has an impact on your experience when you visit the bathroom. Vanity makes it easier for you to find the best toilet seat.
There Are Different Types Of Toilet Seats
Modern toilet seats come in two different types- elongated and round toilet seats. For individuals purchasing one, your selection between the two will not be daunting. In that case, you should go for a product that fits your toilet. While this may sound easy, it's pretty challenging to achieve the objective. You first need to understand the significant difference between the two types of toilet seats before purchasing.
2. How To Take Measurements For Your Toilet Seat
When purchasing a toilet seat, you need to base your decision on round versus elongated. If you're unsure of the basics of size and type, then you can take measurements. Here, the first thing you need to do is take a tape measure and locate some of the holes where your seat should be bolted. From then onwards, you can measure down into the center of the bowl. Because you now have the right measurements for your toilet seat, you should learn more regarding the features dispensed to assist you in narrowing down your options.
3. Consider Looking At The Comfort Of Your Toilet Seat
When choosing a toilet seat, the first thing that should come in mind is comfort. Certain factors majorly influence this aspect. For instance, what is its shape? As indicated earlier, this aspect plays a significant role in determining its comfort. Therefore, an elongated seat is highly preferred since it's more comfortable than other types of seats.
4. The Material Your Toilet Seat Is Made Of
As with any other product in the accessories market, toilet seats are made of different materials. This is an additional factor that you need to consider before choosing the product. The material used in manufacturing the toilet seat is going to influence its comfort. For instance, wooden toilet seats will be slightly warmer than plastic toilet seats.
5. Would You Go For A Soft Seat?
Everyone prefers to have a toilet seat that has impressive features such as a padded element to sit on. With that said, a padded toilet seat is known to be softer than any other seat in the sector. If you spend some significant time in the toilet, then a padded seat can be the best choice in this case.
Take-Home
The toilet seat of your choice plays a concrete role in your life. Therefore, you need to be specific about the type of seat you need. Choose an impeccable design coupled with durability.